Advanced Infrared Thermography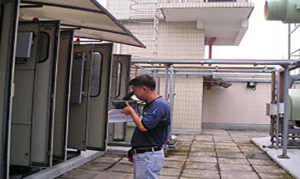 By utilizing the nature of heat, this non-destructive testing technique is able to detect heat energy possessed by a body in the form of infrared. The heat which is detected is then reproduced in an imagery form, making it visible to the human eye. This will tell you in advance of any excessive temperature build up or a hot spot such as loose connections, harmonics or overloading in different phases (Mechanical or Electrical installations).
Electricity Arc, Transformers Oil Test Electric Transformer Testing Vacuum Switchgears For High Voltage Cast Resins and Oil Transformers, Vacuum Switchgear and Motor Starter Panels of 4 kV and above should be tested regularly for partial discharges or arcing to complement standard preventive maintenance practices,such as transformer the basic dielectric or oil acidity tests,resistance or Dissolved Gas Analysis (DGA) Tests.This is so especially for transformers which are subject to operational changes and vibrations which is becoming prevalent in manufacturing plants or even in buildings which can cause loose terminations leading to failure in due course. For Switchgears, arcing or partial discharge problems found are most times due to poor maintenance and contaminations from dust or foreign particles ingress.
Mechanical Equipment – Pump Gearbox Bearing Overheated
Building – Roof Inspection For Leaks
Poor Contact Of Overload Relay
Hot Spot In Distribution Box
ACB – Poor Contact With Arc Choke